Levels of Online Guitar Lessonscollege wherein you will get to choose the course or field that you want to pursue. You may also opt to take up masters and doctorate later on. And as you go along the way, there are examinations and assessments that you have to take that would evaluate your understanding of the things that you have studied. The same thing when learning the guitar whether online or the traditional way. The course has several levels or stages too. It will start from the very basic up until you reach the complicated or complex part. You will also get to choose what kind of music or genre you want to specialize with.
Guitar training online has different levels. It is not only for the newbies or beginners. There is also an intermediate course and an advanced guitar lessons for those who want to polish and to make their skills even better.
Normally, a course has an introduction that tackles what guitar and accessories to buy, the parts of the guitar, getting the guitar in tune, correct posture, and proper finger placement and reading chord boxes.
At the beginners level, the basic chords ( A, E, and D) will be discussed as well as the anchor fingers for them and then the minor chords. Foot tapping and metronome will also be introduced, and exercises are given once in a while in between the different topics. This way, the beginner will get used to the basics making it easier to move on to the next level of the course.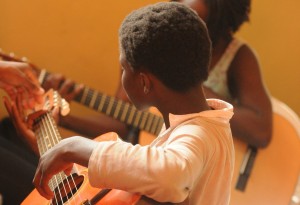 The intermediate course covers Barre chords, 16th note rhythms, the Major Scale, and Notes on the fingerboard while the advanced online guitar lessons deal with the more complex rhythmic figures (galloping and triplets) and chord shapes, faster Alternate/Hybrid Picking, and higher tempos.
To see the complete course online, you can check the website of JamPlay and Guitar Tricks.They are the two best-recommended websites from beginner level to advanced online guitar lessons. They have organized lesson plans, expert, and highly skilled guitarists, and they have multiple styles taught by specialists.
Both sites have a forum wherein you will be able to interact with fellow guitar enthusiasts and share your thoughts or ideas with them. There are also posts here that may answer concerns that were not addressed on the videos provided.